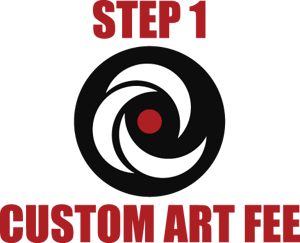 $

50.00
GET A 15% OFF COUPON CODE FOR YOUR ART FEE BY SIGNING UP FOR OUR NEWSLETTER TODAY! http://www.combatbet.com/newsletter.html
STEP 1 - SUBMIT ART FEE HERE!
If you are designing multiple chips at once or have a complex idea, please email laura@combatbet.com for a quote. *Art fees for any amount other than the Standard $50 art fee must be approved/quoted by CombatBet prior to submitting.
STEP 2 - **EMAIL YOUR IDEAS to laura@combatbet.com for the front, back + edge of your custom challenge coins. Please also include which size you are thinking of ordering so that we can design appropriately for that size.
(39mm, 43mm, 46mm or 49mm)
STEP 3 - LOVE IT + SUBMIT ORDER!
You are authorized up to two revisions with our design team after receiving your initial proof. If more revisions are required (rare), a new art fee may apply.
**NOTE - Custom illustration design requests not included in $50 art fee pricing.